Replacing your home's windows is one of life's bigger decisions so of course you want to make sure you make the right choice. So in this article we'll share with the kinds of windows available to help you with your window replacement project.
CASEMENT REPLACEMENT WINDOWS
Open-out Casement Windows are a traditional British option and available in a variety of formats. Large casements tend to be the cheapest and costs tend to be lower because they are made in modular, standard sizes. They are great for ventilating rooms, but as they can open wide, this might cause concern for those with small children or animals
They're the most versatile replacement window, available in a wide range of styles, colours and as such can be designed perfectly to suit most standard homes. Replacement casement windows are available in uPVC, timber or aluminium, with the option of triple glazing on uPVC.
TILT AND TURN REPLACEMENT WINDOWS

Tilt and Turn windows are perfect for easy maintenance and windows above ground floor as the window can open inwards, allowing you to clean the outside from inside your home – available in uPVC, with a choice of double or triple glazing.
Continental-style tilt and turn windows open inwards, and look best on modern designs. The 'tilt' option provides ventilation with security. They are typically made to order, increasing the cost and great for smaller rooms where saving space is a priority.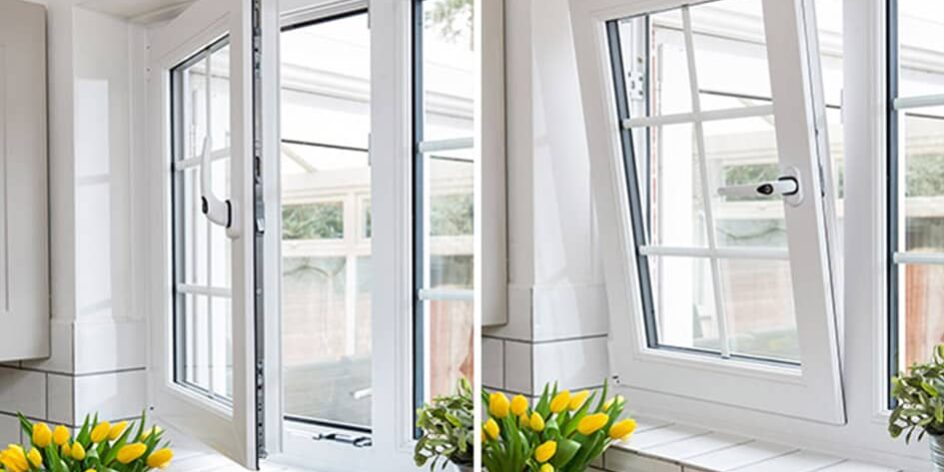 SLIDING SASH AND MOCK SASH WINDOWS
The authentic period design and smooth running mechanism makes sash replacement windows the perfect choice for conservation areas and period homes that need to retain a traditional look – available in uPVC or wood and come fitted with double glazing.
Mock sash windows, designed to look like traditional sash windows with a different opening action, usually feature a fixed pane and a movable panel which tilts open like a standard casement window. Mock sash windows are a good solution for properties where the walls aren't deep enough to accommodate a sliding sash window or where you want the same effect, but at a cheaper cost.
FIXED WINDOWS
Fixed windows are just that, fixed, so they don't open out or let in any ventilation. However, they do maximise opportunities for natural light throughout a home. As they don't need to be made to incorporate an opening mechanism, there are endless designs and styles to play around with. They're a great option for providing light in wasted spaces and are usually the cheapest style of window as there's no opening or closing mechanism.
BAY WINDOWS

A bay window projects outward from the face of a building, forming a recess within a room. A Bay window can span more than one storey, as seen in many Victorian and Edwardian homes, and can be used in self-builds to create window seats and breakfast nooks. There are different types of styles of bay windows including:
Canted – This means the window is formed of straight front and angled sides.
2. Bow – Where the window structure is architecturally curved.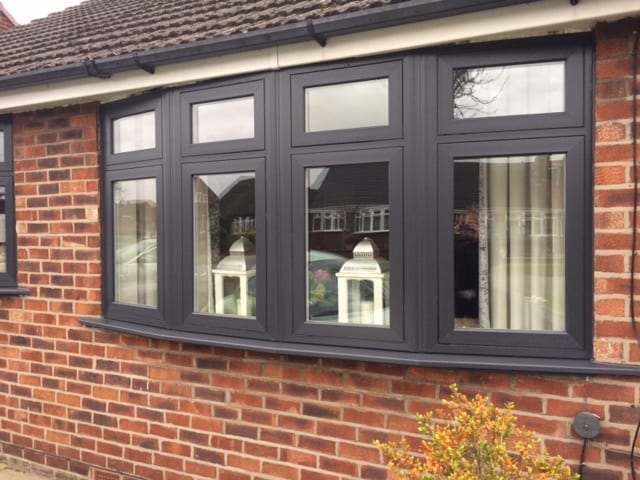 3. Oriel – Starting above ground level, an oriel window is supported by corbels or brackets as it jetties out from the main walls of a building.
CONSERVATORY ROOFS, ROOFLIGHTS & SKYLIGHTS
Introducing windows into the roof can work wonders in renovations, extensions and conversions to bring in natural light where conventional windows can't be installed. Fixed windows that follow the roofline are typically known as skylights, while rooflights tend to open. Roof lanterns are common in orangery-style extensions and sunrooms as they
replace a solid roof.
So here we've shared with you the main types and styles of windows that are available, the other thing to consider is whether you want to go for double or triple glazed, this article will help you decide and then of course colour.
In the early days of PVC-U windows, white was the only option, but now there's a whole palette of colours available, so you can choose a colour that truly complements your home and building materials. You can choose to blend with the environment or to make a bold statement. You can pick from realistic and beautiful wood effects or strong solid colours such as primaries or smart greys. You can even opt for cream or white frames with a painted wood appearance.

All the finishes are achieved by permanently bonding foils to the PVC-U. They won't fade, peel or split and will never need painting to maintain their stunning looks. There's no need to have the same colours indoors and out. You can have white indoors, coloured outdoors, or vice versa. You can have two different colours, or two different woodgrain effects. It's about making the choice that suits your home, your décor and your taste.